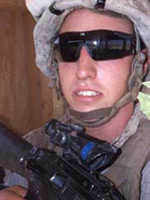 On October 4, 2016, AOS proudly supported a local hero and his family through our sponsorship of the 7th Annual LCPL Cody Childers Memorial Golf Tournament. Sponsors and golfers gathered together at this popular annual event that provides the bulk of funding needed to buy contents for and to mail more than 5,000 care packages annually to U.S. troops deployed in combat zones around the world.
Cody Childers graduated from Grassfield High School in 2009 and fulfilled his childhood dream when he joined the U.S. Marine Corps that same year. Yet sadly, Cody died in combat while serving his country in Afghanistan in 2010. Even after their son died, Cody's parents, Wendy and Randy Childers, continued sending care packages to Cody's buddies in Afghanistan. The tradition they started originally for Cody has continued growing. The Childers' fund uses 100% of the money they raise to create, fill, and mail the care packages.
When asked about this year's golf tournament, Wendy Childers thanked all the sponsors and said, "This was our biggest year to date. We all had a great day honoring Cody, and we raised close to $20,000 that will assist with holiday packages and 2017 boxes for our Marines and other military members deployed overseas defending our country. This year was such a success, I'm already looking forward to next year."
If you'd like to get involved or to learn more, please visit We Care Marines at www.wecaremarines.com or visit the LCPL Cody S. Childers Memorial Fund on facebook.