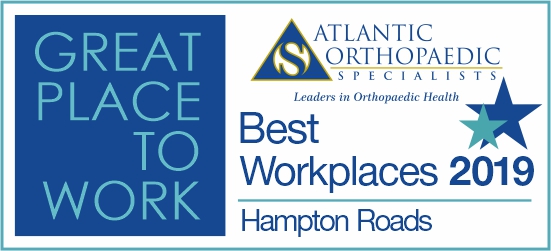 Join The Team At Atlantic Orthopaedic Specialists
Atlantic Orthopaedic Specialists have over 100 years of rich employment history in the Hampton Roads area.  We are committed to the success of our employees and provide competitive salary and benefits packages.
Physician Assistant
PA needed for 23 physician Orthopaedic Surgery practice. Orthopaedic triage experience, sports medicine or athletic training background is desired. NCCPA certified or pending. Responsibilities include office care, inpatient rounds, E.R. and in-hospital consults. We offer a competitive salary & holiday/vacation package with excellent benefits that include 1 week of CME to 2K, and much more.
Please fax your CV to (757) 321-3326 Attn: C. Kyrus or E-mail: to kyrusc@atlanticortho.com