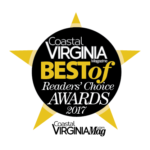 In the July/August 2017 issue, Coastal Virginia Magazine announced that their readers had chosen Atlantic Orthopaedic Specialists as the Best Orthopaedic group in Hampton Roads. The physicians and staff of Atlantic Orthopaedic Specialists (AOS) are honored and proud to have received this recognition again from people in this region of Virginia.
Explaining the significance of the award, a magazine spokesperson said, "The magazine's circulation is 35,000 and readers cast 268,000 votes in the contest. Since it debuted in November 2000, Coastal Virginia Magazine has become a premier resource for locals about living well in the Coastal Virginia region."
A group of more than 220 surgeons, physicians and staff, each member of the AOS team strives daily to deliver the best, and most advanced orthopaedic care available in the nation to each patient, every day. This is not a small task for a group that has more than 150,000 patient visits each year.
Asked how they get the job done, AOS President and orthopaedic spine surgeon, J. Abbott Byrd, MD explained, "It is a team effort. It starts with assembling the most talented group of surgeons possible and then supporting them with a well-trained staff and a positive attitude. This recognition is a significant vote of confidence from the community and shows that AOS is achieving its goal of providing the best orthopaedic care in Hampton Roads."
In addition to General Orthopaedics, each surgeon and physician at AOS has advanced, subspecialty training in one or more than of 7 distinct areas of orthopaedic care. There are specialists at AOS for Spine, Sports Medicine Injuries, Hand and Shoulder, Foot and Ankle, Joint Replacement, Pain Management and Physical Therapy.