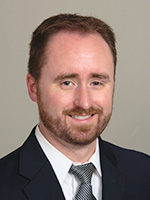 (VIRGINIA BEACH, Va. – July 27, 2017) Atlantic Orthopaedic Specialists is pleased to announce that Jonathan W. Strand, MD will be joining the practice in August of 2017. An Interventional Physiatrist, Dr. Strand's practice will focus on comprehensive pain management, targeting the source of the pain through minimally invasive procedures, therapies, modalities and medications. Among the services he will be offering are epidurals, trigger point and joint injections, radiofrequency ablations and spinal cord stimulator trials. Dr. Strand will begin seeing patients on August 28th and is currently accepting new patients.
Dr. Strand completed his fellowship training in interventional physiatry at the Florida Spine Institute in Clearwater, Florida. Before that he earned his medical doctorate, and completed internship and residency training at Eastern Virginia Medical School in Norfolk, Virginia. During training, Dr. Strand published articles on his research in pain management. He is a member of the Spine Intervention Society and the North American Spine Society.
A native of Kalamazoo, Michigan, Dr. Strand lives in Virginia Beach with his wife and two children. He enjoys spending time on the beach with his family, traveling, watching University of Michigan sports and going to the gym.