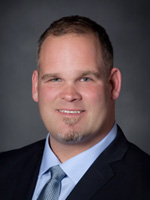 Dr. Brad Butkovich is originally from New Mexico, and grew up in Frankfurt, Germany and Virginia. He attended the University of Richmond on a full football scholarship. There he pursued his undergraduate and master's degrees in Biology. He went on to attend medical school at the Medical College of Virginia and then completed his orthopaedic surgery residency at the University of Florida in Gainesville. Later, he performed a Sports Medicine and Arthroscopy Fellowship at Orthopaedic Research of Virginia, at the renowned program founded by the late Dr. Dick Caspari. Dr. Butkovich is one of a few surgeons in Hampton Roads to have completed an accredited Sports Medicine Fellowship and to have received separate Board Certification in Sports Medicine through the American Board of Orthopaedic Surgeons.
Dr. Butkovich has specialized training in multiple shoulder arthroscopic procedures, including shoulder reconstruction, rotator cuff and instability procedures. His arthroscopic and sports medicine expertise also includes knee arthroscopy, ACL reconstruction, multi-ligament knee injuries, cartilage restoration and foot & ankle and upper extremity surgery. While he does specialize in the athlete, Dr, Butkovich takes the approach that we are all athletes to one degree or another and takes care of all orthopaedic issues in any given patient.
Dr. Butkovich is involved as a board member with the Virginia Orthopaedic Society and is an active member of the American Orthopaedic Society for Sports Medicine as well as the Arthroscopy Association of North America. He is currently involved in bringing better and more innovative surgeries to cartilage restoration and repair in Hampton Roads as well as pursuing cutting edge ACL reconstruction and graft augmentation using Platelet Rich Plasma and the "Flash Technique". He was one of the first orthopaedic surgeons in the state of Virginia to perform this technique and continues to innovate ACL reconstruction with ongoing research into using GPS technology for ideal ACL graft placement in surgery.
At Atlantic Orthopaedic Specialists, Dr. Butkovich is board certified in Orthopaedic Sports Medicine and Arthroscopy, as well as general orthopaedics. Being an athlete himself, he has associated with multiple sports entities. Dr. Butkovich worked with the Florida Gators during Residency and was team physician for Randolph-Macon College during his Fellowship. He is an active and ongoing consultant with the Washington Redskins and participates yearly at the NFL Combines in Indianapolis and in Training Camp with the Redskins organization. Dr. Butkovich is currently Team Physician for the Old Dominion Monarchs and has also served as physician for the Eastern Shore Ballet Company as well as the high schools of the Eastern Shore of Virginia.
Dr. Butkovich currently sees patients in the Kempsville (Sentara-Leigh) and Depaul Offices and cares for athletes and weekend warriors with various orthopaedic issues from the Eastern Shore, Tidewater/ Hampton Roads and North Carolina area.
He is married to his high-school sweetheart, Debbie, and has two daughters and two sons that keep him busy outside of work. When he can find some spare time, Dr. Butkovich enjoys mountain biking, sailing, off-roading (and subsequently repairing) his Jeep, drawing and reading science fiction.