Hampton Roads area physician recognized for major contributions in the field of orthopaedics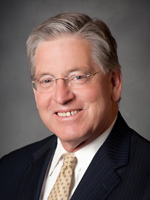 (VIRGINIA BEACH, Va. – May 10, 2016) –J. Abbott Byrd III, M.D., F.A.C.S., F.A.A.O.S., of Atlantic Orthopaedic Specialists (AOS) was honored with the Virginia Orthopaedic Society (VOS) Career Award at the organization's annual meeting April 17. Each year, the prestigious award is bestowed upon an orthopaedic surgeon whom the VOS Board of Directors believes has made a significant contribution to the field of orthopaedics.
The Career Award presented to Dr. Byrd signifies his "enduring support of the Virginia Orthopaedic Society in its efforts to represent orthopaedic surgeons throughout the Commonwealth of Virginia," said Dr. T.K. Miller M.D., president of the VOS who presented Dr. Byrd with the award at this year's annual meeting at The Lodge in Colonial Williamsburg, Va.
Dr. Byrd practices at AOS in Norfolk, where he specializes in the treatment of both pediatric and adult patients with complex spinal issues. He has helped guide many patients from a state of chronic, debilitating back pain to leading healthy, productive lives. Throughout his 30-year career of caring for patients with spinal deformities, Dr. Byrd has dedicated much of his time treating patients with sagittal plane deformity, or lumbar flatback.
The Norfolk, Va., native is the President of AOS and an active leader of both the VOS and the American Academy of Orthopaedic Surgeons. In addition, Dr. Byrd is a core member of the Scoliosis Research Society and the North American Spinal Society, both of which are select groups dedicated to treating patients with spinal disorders.
Dr. Byrd is board certified by the American Board of Orthopaedic Surgery (ABOS).