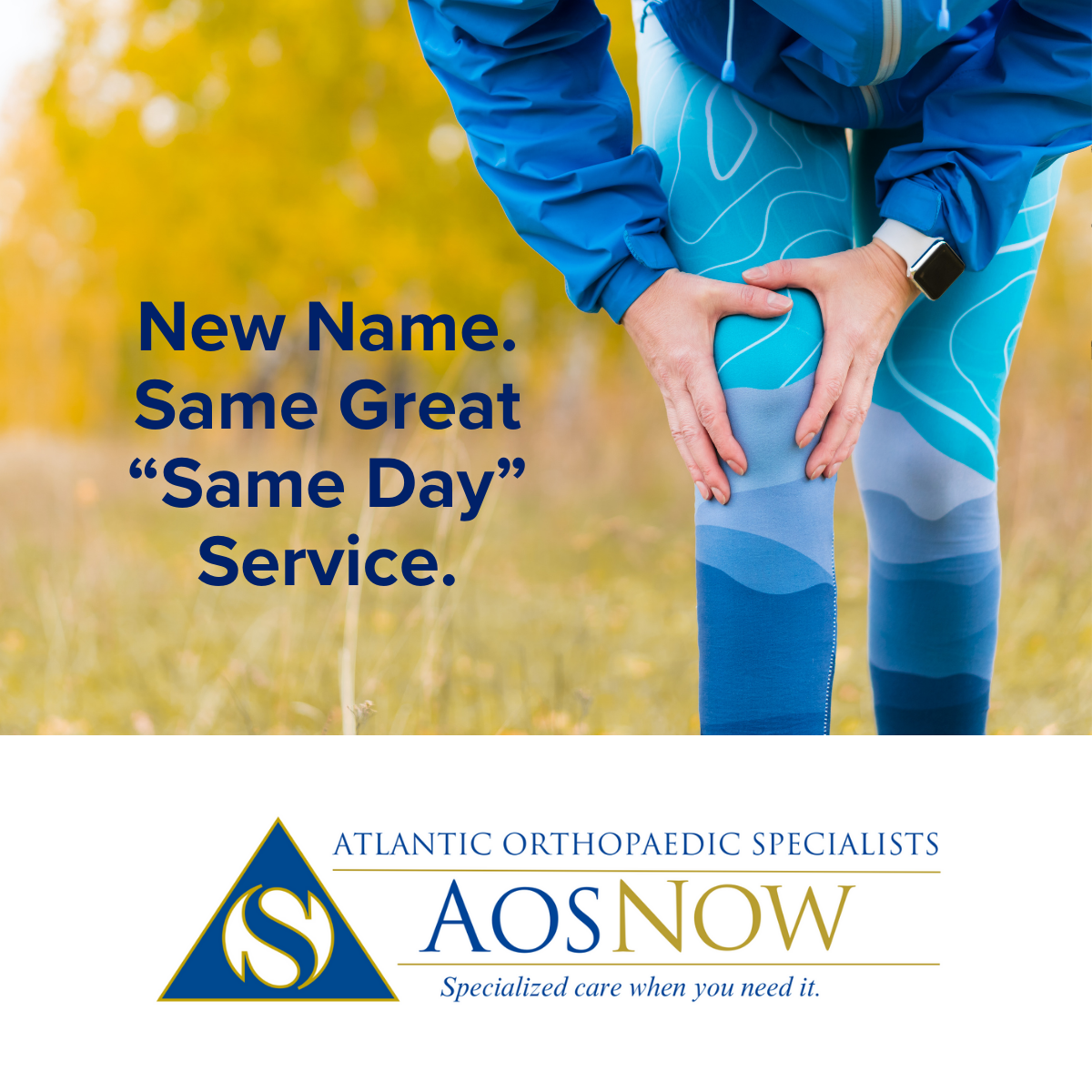 At Atlantic Orthopaedic Specialists, we are excited to introduce our refreshed and rebranded orthopaedic walk-in clinic, now proudly named AOSNOW.
While our name may have changed, our core value and outstanding "same day" service you have come to expect remain unchanged. The transition from ORTHONOW to AOSNOW aligns with our company's vision to create a more unified, unique, and easily recognizable brand identity for our orthopaedic walk-in clinics. By incorporating AOS, which stands for our parent brand, Atlantic Orthopaedic Specialists, into the name, we aim to reinforce our long-standing reputation for excellence and expertise in orthopaedic care. The new name—AOSNOW—reflects both our parent brand and our commitment to providing same-day care to our community for orthopedic issues that cannot wait. Same Great "Same Day" Service!
At AOSNOW, our providers treat acute (sudden) injuries including fractures, strains, sprains, foot & ankle injuries, tendonitis, hip, knee, and shoulder injuries, sports-related injuries, and more. AOSNOW is also equipped to perform x-rays, bracing, and castings after a full examination of injuries. For immediate attention for many acute orthopaedic injuries, skip the emergency room (ER) wait time and visit one of our four conveniently located AOSNOW clinics.
Offering daytime and after-hours appointments – varying by location. Call 757-321-3360 for questions or to confirm hours.
Virginia Beach, Camelot M-F, 9 a.m. – 5 p.m
Virginia Beach, Princess Anne, M-F, 9 a.m. – 5 p.m
Norfolk, Kempsville, M-F, 9 a.m. – 5 p.m
Chesapeake, Volvo 1 p.m. – 8:00 p.m.