NORFOLK, VA – Atlantic Orthopaedic Specialists (AOS), Hampton Roads' largest orthopaedic group, announced today that Dr. James B. Sanderlin will join the practice on June 14, 2021. Dr. Sanderlin will see patients in AOS's Physical Medicine and Rehabilitation (PM&R) Procedure Suite located at 6160 Kempsville Circle, Suite 110A, Norfolk, VA, 23502.
A Virginia native, Dr. Sanderlin earned a Bachelor of Science in Biology from James Madison University. He went on to complete his Doctor of Medicine program, internship, and residency at Virginia Commonwealth University School of Medicine, and was subsequently fellowship-trained at Virginia Interventional Spine Physicians. Board certified in PM&R and certified by the American Board of Pain Medicine, Dr. Sanderlin will be joining AOS as a non-surgical pain management physician, specializing in minimally invasive PM&R treatments such as:
Cervical, thoracic, and lumbar epidural steroid injections
Medial branch and peripheral joint radiofrequency ablation
Peripheral joint injections
Spinal cord stimulator trials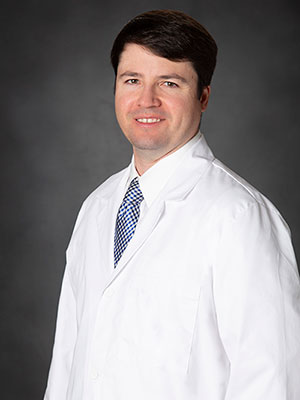 "After expanding our practice last summer to include a dedicated PM&R Procedure Suite, we're pleased to welcome another skilled physiatrist to the AOS team to further serve and assist our pain management patients," said Dr. Chad R. Manke, AOS president. "With his distinguished record of experience, research, and training as an interventional spine specialist, Dr. Sanderlin will make an excellent addition to our practice."
Dr. Sanderlin will join current AOS physicians Dr. Jonathan Strand and Dr. JoAnn Dervay in performing various pain management treatments in AOS's PM&R Procedure Suite. This space, located on the bottom floor of The Smithfield Building, offers five examination rooms devoted to PM&R patients; pre- and post- procedure rooms; a C-Arm imaging scanner intensifier; a radiofrequency ablation (RFA) machine; an electromyogram (EMG) machine; and a dedicated PM&R staff.
To visit Dr. Sanderlin at AOS's Norfolk location, pain management patients can schedule an appointment by calling (757) 321-3300.
About Atlantic Orthopaedic Specialists
Founded in Norfolk more than 100 years ago and currently headquartered in Virginia Beach, Atlantic Orthopaedic Specialists (AOS) is a physician owned practice with 19 orthopaedic surgeons and three physiatrists. Covering seven specialties, AOS is Hampton Roads' largest orthopaedic practice with five offices and physical therapy locations in Chesapeake, Virginia Beach and Norfolk, Virginia. AOS providers have specialty training in the widest array of orthopaedic specialty areas including pain management, spine, scoliosis, hands, shoulder, foot, ankle, knee, and sports medicine. Visit www.atlanticortho.com for more information.