It was with mixed feelings that we celebrated the retirement of our distinguished colleague Dr. J. Abbott Byrd III, MD, FAAO, FACS Monday, May 31, 2021. Dr. Byrd has served Atlantic Orthopaedic Specialists (AOS) and our community of patients for decades, and has contributed to invaluable developments in the field of orthopaedic surgery, driven by his strong personal commitment to service and philanthropy.
Dr. Byrd began practicing orthopedic surgery in Hampton Roads almost 34 years ago. Year after year, he was repeatedly voted one of Coastal Virginia's Top Docs. In 2016, he received the Virginia Orthopaedic Career Award from the Virginia Orthopaedic Society.
Dr. Byrd pioneered several key spinal implant systems, notably co-inventing the patented PWB spinal implant system which is credited as the first variable angle pedicle screw in the world and has been used worldwide to treat spinal deformity. Further refinements led to the Synergy spinal system followed by the Polaris spinal system, which were both used to surgically treat various spinal conditions. Another of his inventions, still in use today, was a stand-alone spinal cage used in treating discogenic lumbar and cervical pain. Through his philanthropy, he also has affirmed this dedication to research and innovation. Among other generous gifts, he and his wife Dr. Allison Byrd endowed The Allison D. and J. Abbott Byrd III Chair in Orthopaedic Surgery at the VCU School of Medicine (originally The Medical College of Virginia), guaranteeing funding for future research.
Besides the contribution of his innovations, Dr. Byrd has left a rich and proud impact at AOS. During his tenure as President of AOS from 2002 to 2018, he expanded the group to include 23 physicians, a staff of 200, and six locations throughout Hampton Roads.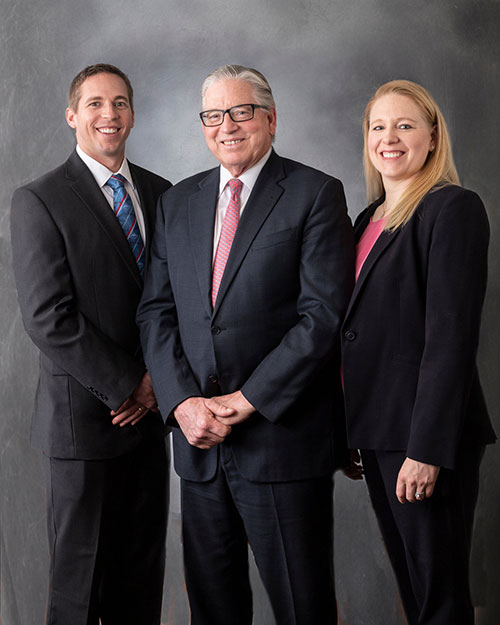 Dr. J. Abbott Byrd III (center) pictured with his children and fellow AOS physicians, Dr. William A. Byrd (left) and Dr. Jennifer M. Byrd (right).
Dr. Byrd's legacy is proudly carried on at AOS through his children, Dr. Jennifer M. Byrd, a Sports Medicine orthopaedic surgeon, and Dr. William A. Byrd, a Total Joint Replacement orthopaedic surgeon, who both joined the group in 2019.
"Abbott has been a great mentor to me, more importantly he has been an amazing friend. I can't tell you how much I've appreciated working with him and getting to know him over these years," says current AOS president, Chad R Manke. "Although Dr. Byrd will be missed, we are grateful for the years he spent with AOS and his service to our community and patients."

Patients interested in scheduling an appointment with a Board-Certified, Fellowship-Trained AOS Spine Surgeon can call (757)321-3360