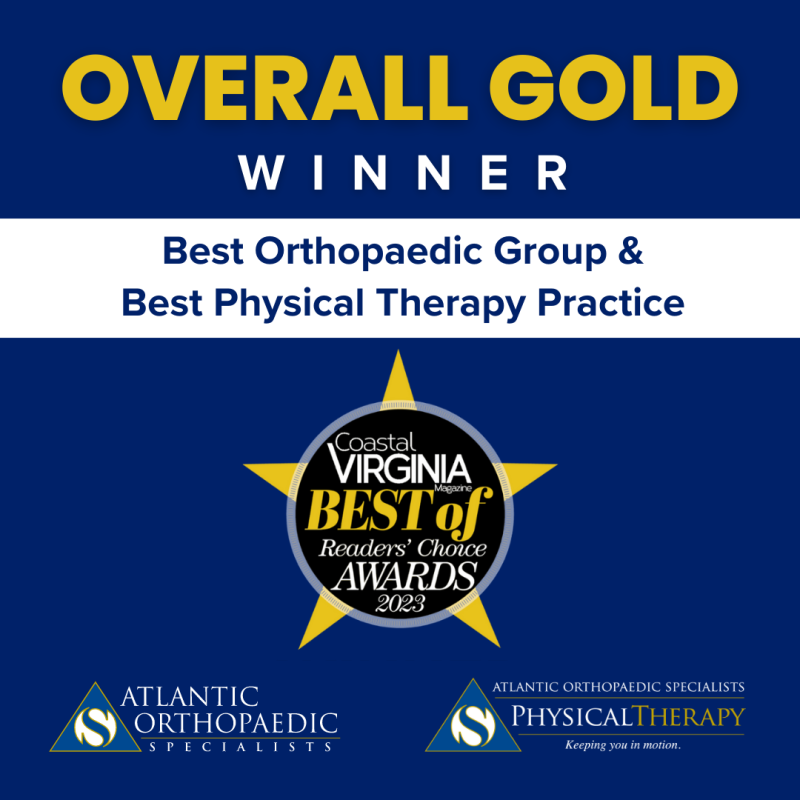 We are thrilled to announce that Atlantic Orthopaedic Specialists (AOS) has once again secured its position as a leader in the field of orthopaedics and physical therapy. Coastal Virginia Magazine, in its July 2023 issue, has awarded AOS with the prestigious Overall Best Gold titles in not just one, but two categories for 2023. This remarkable achievement marks the 10th consecutive year that AOS has been named Best Orthopaedic Group and the 3rd consecutive year as Best Physical Therapy Practice.
Established in Norfolk over a century ago, AOS has remained steadfast in its commitment to exceptional patient care. Currently headquartered in Virginia Beach, Virginia, AOS boasts a team of 21 highly skilled orthopaedic surgeons and three accomplished physiatrists. With four convenient locations, AOS proudly stands as the largest orthopaedic practice in the Hampton Roads region. Our practice encompasses seven specialties, including Foot & Ankle Center, Center for Hand to Shoulder Surgery, Total Joint Replacement Center, Center for Orthopaedic Oncology, Center for Physical Medicine & Pain Management, Physical Therapy Center, Spine & Scoliosis Center, and Center for Sports Medicine and Arthroscopy.
AOS is not only renowned for its medical expertise but also for its dedication to providing accessible care to the community. We understand that orthopaedic concerns can arise unexpectedly, which is why we offer no-appointment walk-in clinics to accommodate urgent cases promptly. https://www.atlanticortho.com/orthonow/
In addition, our integrated approach to patient care includes top-tier physical therapy services. This ensures that our patients receive continuous support and treatment throughout their healing journey, adapting to their changing needs as they progress toward recovery. https://www.atlanticortho.com/physical-therapy/
The accolades bestowed upon us by Coastal Virginia Magazine's readers are a testament to the unwavering commitment and expertise of our entire team. Being voted as the Overall Best Gold in both the orthopaedic and physical therapy categories is a humbling recognition of the trust our community places in us. We extend our heartfelt gratitude to our patients and the community for choosing AOS as their preferred orthopedic healthcare provider.
As we celebrate this milestone of excellence, AOS remains committed to advancing our medical expertise, embracing the latest advancements in technology, and upholding our compassionate approach to patient care. With a legacy of 102 years of service to the Hampton Roads community, we look forward to continuing to serve you and your loved ones for many more years to come. Thank you for being a part of our journey!