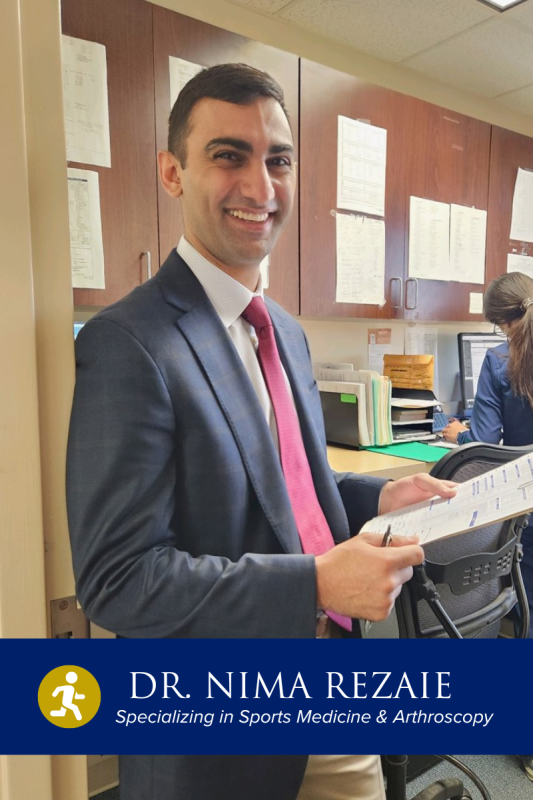 We're excited to welcome the newest member of our team, Dr. Nima Rezaie, a highly skilled physician and surgeon specializing in Sports Medicine and Arthroscopy.
A Jacksonville native, Dr. Rezaie completed his undergraduate degree in Microbiology and Cell Science at the University of Florida before earning his medical degree at Florida State University College of Medicine. He completed his residency in orthopaedics at Orlando Health and distinguished himself as a Chief Resident and received the CAPI Best Resident Award in Orthopaedics.
Fellowship-Trained
Dr. Rezaie completed his fellowship at the renowned American Sports Medicine Institute in Birmingham, AL, where he gained extensive training in hip, knee, shoulder, and elbow arthroscopy, along with robotic and navigated joint replacement.
As a team physician for numerous professional and collegiate teams, including Auburn University, USFL, USA Cheer, and Alabama Ballet to name a few, Dr. Rezaie has worked with athletes from various disciplines, including football, cheerleading, baseball, and ballet.
The World Games Coverage
In 2022, Dr. Rezaie provided medical coverage at The World Games in Birmingham, AL. The events he covered included sumo wrestling, powerlifting, kickboxing, fistball, beach handball, and korfball.
Specialization in Sports Injuries and Arthroscopic Procedures
Dr. Rezaie's expertise includes treating sports injuries, knee ligament and meniscal injuries, shoulder instability and rotator cuff tears, cartilage injuries, and hip labral tears.
Whether you're a professional athlete or an active individual, Dr. Rezaie is dedicated to helping you achieve peak performance.
To learn more about Dr. Rezaie, visit https://www.atlanticortho.com/doctors/nima-rezaie-md-board-eligible-orthopaedic-surgeon/