Coastal Virginia Magazine
Top Doctors in Hampton Roads 2019
AOS Wins Again in COVA's Annual Contest!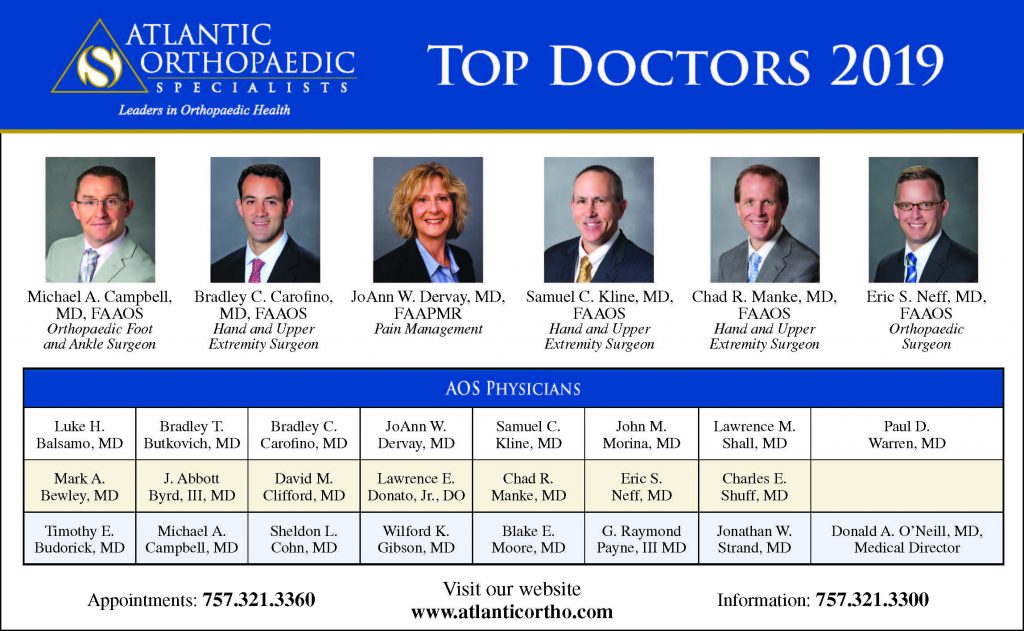 Six AOS surgeons and physicians were selected as 'TOP DOCS'in Coastal Virginia Magazine's annual survey of local physicians.  Winners in 2019 were Foot and Ankle Surgeon, Michael A. Campbell, Hand and Shoulder Surgeons Chad Manke, Samuel Klineand Brad Carofino, Pain Management Specialist, JoAnn Dervayand General Orthopaedic Surgeon, Eric Neff.
Each year, Hampton Roads' local magazine Coastal Virginia Surveys area physicians asking them to name one physician in each specialty area that they think is number one in their specialty area.  Orthopaedics was one category of physician specialties and AOS had six winners.  The results of the survey this year are published in the 2019 September-October issue of Coastal Virginia Magazine.
Regarding Top Docs, one of the winners, and the president of AOS, Dr. Chad Manke said "Each of us at Atlantic Orthopaedic Specialists strives to deliver the best orthopaedic care to each of our patients every day.  Our patients are often referred to us by primary care physicians, Nurse Practitioners and Physician Assistants from throughout the area.  We are deeply grateful for the confidencethatprimary careprovidersplacein AOS by referring patients with orthopaedic issues.  The results of this contest reflect that confidence and we will continue to earn it. "