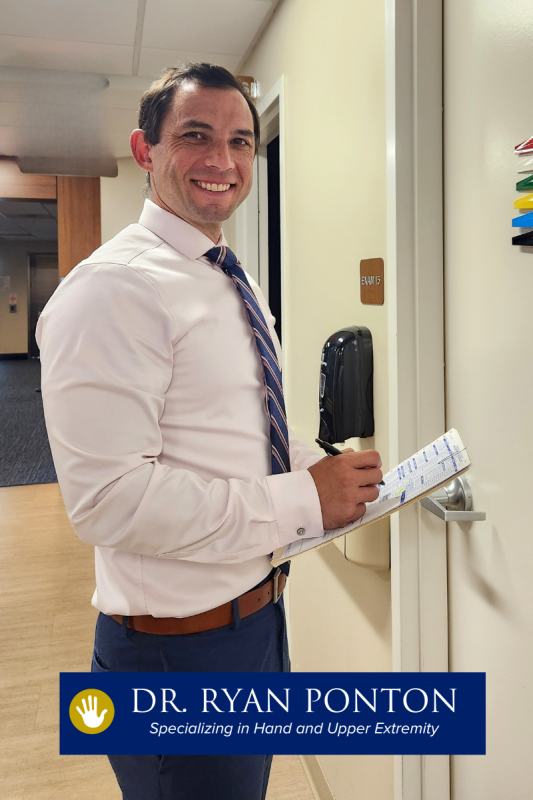 Atlantic Orthopaedic Specialists is thrilled to announce the newest addition to our team of esteemed physicians, Dr. Ryan Ponton, a board-certified, fellowship-trained orthopedic surgeon specializing in Hand & Upper Extremity care. He is truly a homegrown product of Hampton Roads, and we couldn't be more excited to welcome Dr. Ponton back home.
A native of the region, Dr. Ponton's roots run deep in Hampton Roads. He was born at Portsmouth Naval and spent his formative years growing up in Virginia Beach. As an alumnus of the inaugural class at the Ocean Lakes High School Math & Science Academy, he laid the foundation for a successful journey in the medical field. Fun fact: Dr. Ponton's journey to becoming an orthopaedic surgeon began with a mentorship at Atlantic Orthopaedic Specialists (AOS) during his high school graduation project. It's incredible how things have come full circle, and now he's an integral part of our team as an Orthopaedic Surgeon. Dr. Ponton is also a U.S. Navy Veteran, having served as a Flight Surgeon, Associate Master Clinician, and Assistant Professor of Surgery. His dedication to caring for our country's service members over the last 15 years has been nothing short of admirable, and we are grateful for his service.
Dr. Ponton's return to Hampton Roads signifies a new chapter in his medical career, and we are honored that he has chosen to join our practice. His expertise in Hand & Upper Extremity orthopedics is a valuable addition to our comprehensive services. As a specialist, Dr. Ponton is highly experienced in treating various conditions related to the hand and upper extremities. From carpal and cubital tunnel syndrome to hand and wrist arthritis, fractures, and nerve injuries, patients can rest assured that they are in the hands of an expert who truly understands the intricacies of these conditions.
If you or someone you know is seeking specialized care for hand and upper extremity issues, don't hesitate to schedule a consultation with Dr. Ryan Ponton. We look forward to the positive impact he will make in the lives of our patients and the community as a whole. Stay tuned for more exciting updates and developments from Atlantic Orthopaedic Specialists. To learn more about Dr. Ponton, visit https://www.atlanticortho.com/doctors/ryan-ponton-md-faaos/