Between seasons, professional football players must keep in top physical shape, and hometown hero Kam Chancellor is no exception. Kam recently chose Atlantic Orthopaedic Specialists for his ankle conditioning before returning for pre-season training with his team in the pros.
A graduate of Maury High School in Norfolk and an alumnus of Virginia Tech, Kam was in the South Hampton Roads area to visit friends and family before the start of pre-season. He spent hours over a month-long period with AOS physical therapist Ryan Davis.
"It was a pleasure having him," Davis said, as he explained their success in maximizing Kam's ankle motion and strength, the main goals of his sessions.
AOS is proud to have been Kam's choice for his physical therapy needs while here in Hampton Roads, and wish him GOOD LUCK in the upcoming 2017 season!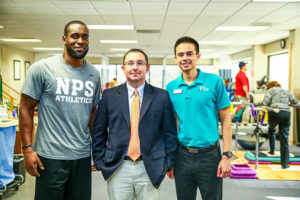 Kam Chancellor with Dr. Campbell (center) and physical therapist Ryan Davis (right)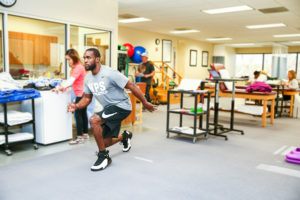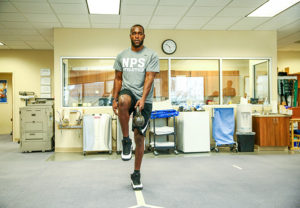 Pro football player Kam Chancellor performing his physical therapy routine at the AOS Kempsville Physical Therapy office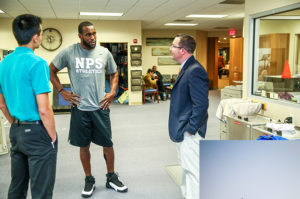 Kam Chancellor with his physical therapist Ryan Davis (left) and his supervising physician Dr. Campbell (right)