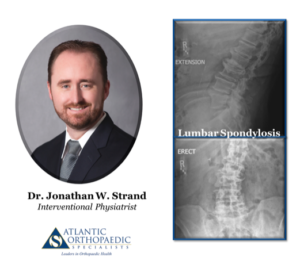 This procedure, which treats chronic orthopaedic pain, uses radio waves to heat an area of nerve tissue. By applying heat to the nerve, pain signals are reduced from that specific area.
AOS Interventional Physiatrist, Dr. Jonathan Strand, primarily uses this procedure to treat a condition called lumbar spondylosis, which is the degeneration of the spinal column in the low back (pictured).
Although most frequently used in the lumbar spine, radio frequency ablation can be used anywhere along the spine and also for arthritic knee pain!
To learn more about Dr. Strand,